Individual stories of Christian suffering and oppression featured in Persecuted and Forgotten?

Syria: Man bound hand and foot to a cross
January 2017: Christian man Elias was bound to a cross by Daesh (ISIS) forces in Raqqa, northern Syria.
He escaped when a bomb forced his captors to flee. When Aid to the Church in Need visited Elias in Syria, he said Daesh seized him for failing to keep up the jizya Islamic payments imposed on Christians in Raqqa. Elias said his income ceased after a bomb injury prevented him from working as a car mechanic.
Angered by his inability to pay, Daesh threw his Virgin Mary statues in the bin. When Elias protested, the Daesh forces hit him on the head. He was jailed for defending himself and was tied hand and foot to a cross in a solitary cell. He was fed mouldy bread for several days before being told his throat would be slit.
A bomb blast caused his captors to flee and Elias was reunited with his wife, Samar. Rescuing their Virgin Mary statues, the couple hitched a lift to Aleppo where they were cared for by aid coordinator Sister Annie Demerjian and her volunteers. Names have been changed to protect Elias and Samar's missing teenage children – Rima, 18, and Youhanna, 17 – held by Daesh.
---
Egypt: Suicide bombers strike during Mass
December 2016: In Cairo, Egypt, at least 29 people were killed and more than 50 people were injured when a suicide bomber struck during Sunday Mass.
Following the attack at SS Peter and Paul Coptic Orthodox Church, next to the St Mark's Coptic Orthodox Cathedral, Daesh (ISIS) claimed responsibility, stating on Facebook that similar attacks would continue "against every infidel and apostate in Egypt, and everywhere."
Egyptian Catholic bishops' spokesman Father Rafic Graiche told Aid to the Church in Need: "There is a feeling among many who attend Mass that under the seat there is a bomb."
Four months later, in April 2017 on Palm Sunday suicide bombers targeted two churches in Alexandria and Tanta, resulting in 44 dead and more than 120 injured.
The following month, at least 28 people were killed and 23 others were injured when extremists targeted a bus filled with pilgrims travelling in Minya Province, Upper Egypt. Again, Daesh claimed responsibility.
---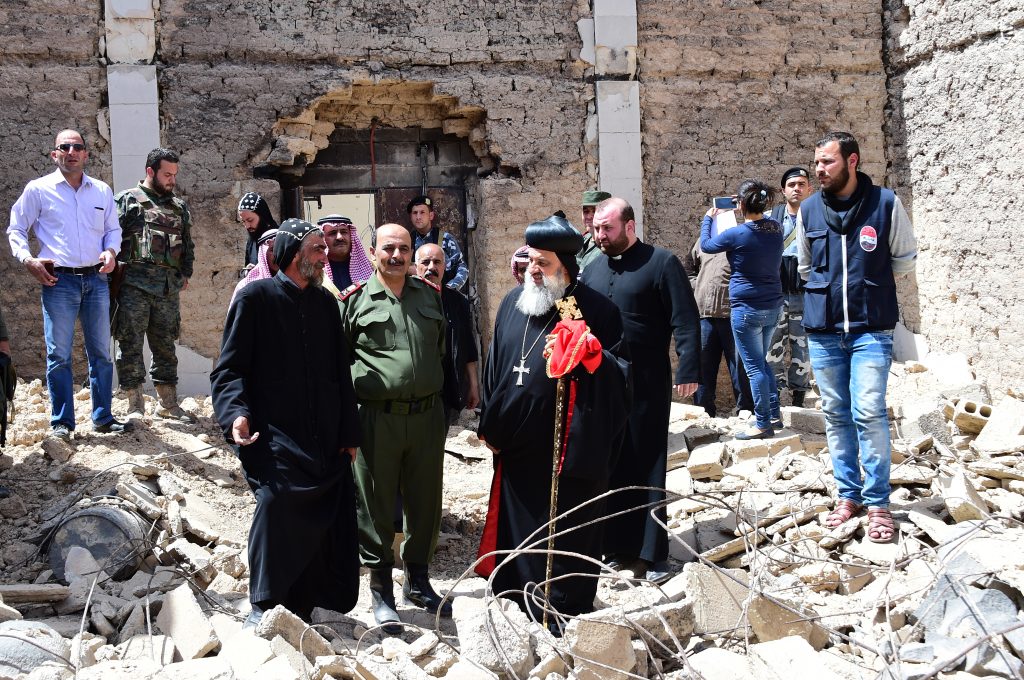 Syria: Monastery bulldozed and the dead defiled
APRIL 2016: When Syriac Orthodox Patriarch Ignatius Aphrem II visited a Syrian town just days after Daesh (ISIS) was driven out, he saw how the militants had tried to eradicate Christian symbols there. Syrian government forces ejected Daesh from Al-Qaryatayn in April 2016, nine months after the jihadists seized the town. During his visit, Patriarch Aphrem saw evidence that the jihadists had used a bulldozer to partially destroy St Elias Monastery, which dates back more than 1,500 years.
Human bones from ancient graves could be seen within the rubble. Charred pages from ancient Christian holy books were also visible and, in the graveyard outside, gravestones had been damaged and all the crosses removed. Churches all over the area have been demolished or damaged.
Patriarch Aphrem (pictured standing in Al-Qaryatayn's St Elian Syriac Orthodox Church) told Aid to the Church in Need: "The residents wept when they saw what had become of their town. It was especially painful to see how the churches had been wilfully defiled by ISIS."
Within 24 hours of seizing Al-Qaryatayn in August 2015, Daesh abducted 230 people – 60 of them Christians – from the town. Many were subsequently released.
---
Nigeria: Woman killed in her kitchen on Easter night
APRIL 2017: Christian woman Dorkas Zakka was among 12 people killed by Fulani herdsmen who interrupted an Easter Vigil Mass in Kafanchan state, northern Nigeria.
Targeting St John's Catholic Church, in Asso town, the anti-Christian Fulani chased the young mother back to her home and killed her on her kitchen floor. Another nine faithful were killed as they ran out of the church.
St John's parish priest Father Alexander Yeyock told Aid to the Church in Need: "I was celebrating Mass… then there was sporadic shooting."
Condemning the military for failing to protect the Christian village, he said: "The military were there during the Easter Vigil attack… they didn't do anything. They allowed the Fulani herdsmen in."
---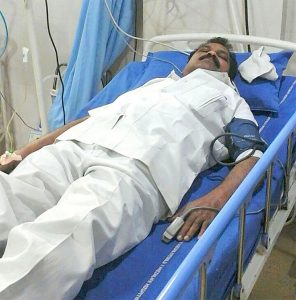 India: Christian minister beaten unconscious
February 2017: A Christian pastor in India was left in a coma after being beaten in a "planned" attack apparently carried out by Hindu extremists.
Several young men reportedly pounced on the Rev Gandham Padma Rao, 49, in Medipally village, Telangana state, close to where he ministers.
Before slipping into unconsciousness, the pastor told police that the attack was religiously motivated. He stated: "They spoke to me in vulgar language: 'You must never come to our village to pray. You should never enter our village.'"
A First Information Report was filed at Ramagundam police station, but his assailants were described as drunken youths. All references to the Hindutva group were removed from Pastor Rao's statement.
Pastor Rao's son, Samuel Mark, said the attack was "planned": "My dad went to visit the families who had been attending our church over years now. He had no[thing] to do with the assailants." He added: "He didn't even respond to them when they shouted at him. All of a sudden, they began kicking him on the road." The attack on the Rev Rao comes after his church's cross and sound equipment were destroyed in 2015.
---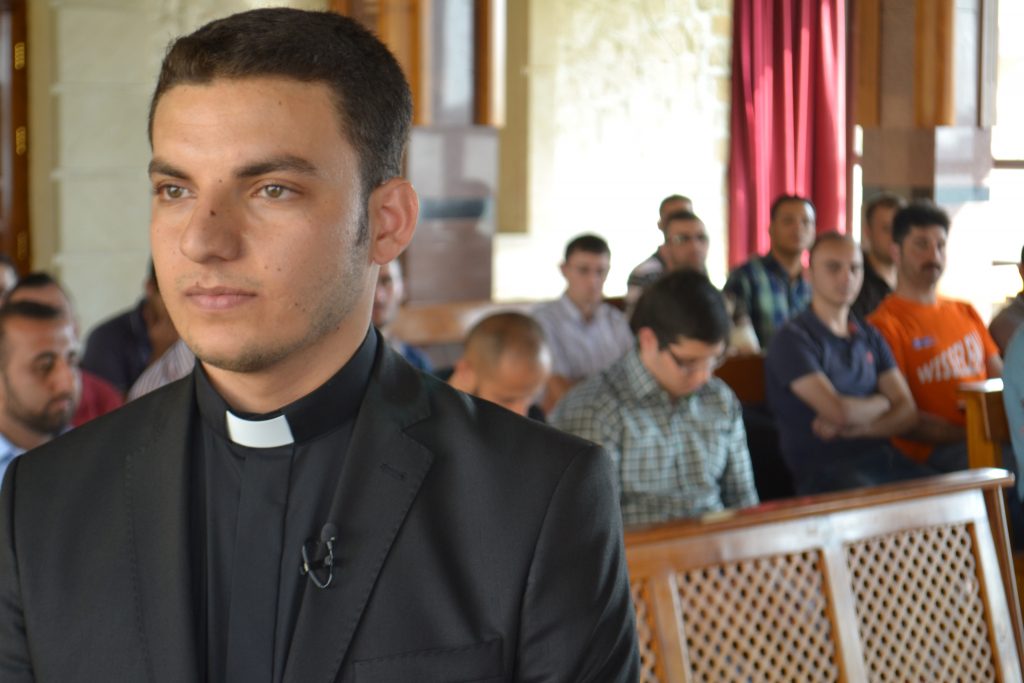 Iraq: Young priest restores faith in desecrated village
March 2017: Newly-ordained priest Father Martin Banni (pictured) returned with the Blessed Sacrament to his church in the ancient Nineveh Plains, northern Iraq, following the expulsion of Daesh (ISIS). In a message to Aid to the Church in Need, the priest described the welcome he received from his flock, who were beginning to return after more than two years living in displacement in Kurdish northern Iraq.
Fr Martin wrote: "I was the first priest to bless the people in the church in my home village in northern Iraq."
The priest recalled how, on the night of 6th August 2014, he whisked the Blessed Sacrament to safety as he fled Karemles, just before Daesh stormed in.
Fr Martin's return to Karemles in spring 2017 came amid plans involving Aid to the Church in Need to enable Christians to return to the Nineveh Plains with an emphasis on repairing thousands of homes damaged by Daesh. The programme follows a massive ongoing emergency relief operation for the 120,000 displaced Christians and others in Kurdish northern Iraq.
---
Philippines: Extremists smash and burn in cathedral attack
May 2017: Islamist extremists in the Philippines filmed themselves desecrating and setting fire to a cathedral, in an attack on a city which included the abduction of a priest and hundreds of others. Militants from Maute, an Islamist organisation which has pledged allegiance to Daesh (ISIS), desecrated sacred images at St Mary's Cathedral, Marawi city in Mindanao island, and destroyed the entire structure.
In the 96-second video, the gun-toting militants – some of them teenagers – are seen destroying images of Jesus Christ, the Virgin Mary and tearing up posters of Pope Francis. The Islamists also desecrated a chapel in Malagakit village, also in Mindanao.
In the Maute attack on Marawi, Father Teresito 'Chito' Suganob and parishioners were abducted. At the time of writing, up to 100 of those kidnapped were still being held, including the priest. Responding to the attack on his cathedral, Bishop Edwin de la Pena of Marawi, said: "Our faith has really been trampled on."
---
Pakistan: He laid down his life for others
November 2015: The parents of a young man in Pakistan paid tribute to their son after he gave his life for hundreds of Mass-goers by preventing a suicide bomber from entering their parish church.
Returning to St John's Catholic Church, Yohannabad, near Lahore, where Akash Bashir died, his parents, Nazbano and Bashir, told Aid to the Church in Need staff visiting Pakistan how the 20-year-old volunteer guard was killed while slamming the church gate in the face of a suicide bomber.
At least 15 people were killed – and more than 70 were injured – when on Sunday, 15th March 2015 suicide bombers struck at St John's and nearby Christ Church Protestant Church. Akash's father, Bashir, told ACN: "My son knew the sacrifice he was making. He gave his life to save hundreds of people at Mass that day." Claiming responsibility for the attack was Islamist militant group Jamaat-ul-Ahrar, which also said it was behind the March 2016 Easter Day bomb blast at Lahore's Gulshan-i-Iqbal Park, which killed nearly 80 people, many of them Christians.
---
Sudan: Churches destroyed on government orders
May 2017: Two churches in Sudan were destroyed on the orders of the regime – with another 25 also facing demolition.
The leveling of the Sudanese Church of Christ (SCOC) building in the Algadisia district of the capital, Khartoum on 17th May came 10 days after the government demolished the SCOC church in Soba Al Aradi, the last Christian place of worship in the area.
When the regime announced the list of demolitions of religious buildings which included mosques, the government stated that the churches were built in violation of designated land usage.
An ACN source said: "The government has made it clear that no new churches will be allowed, whereas none of the mosques will face the same reality."
---
China: Bishop repeatedly arrested and forced on 'a trip'
June 2017: Catholics in China were praying for their new bishop, who – at the time of writing – was being held at an unknown location after the authorities prevented him from being installed.
Peter Shao Zhumin, 54, had been appointed Coadjutor Bishop of Wenzhou, with automatic right of succession. But, when Bishop Vincent Zhu Weifang died in September 2016, the authorities arrested Bishop Zhumin and took him on "a trip", releasing him a month later. Re-arrested briefly over Easter, Bishop Zhumin disappeared for a fourth time in May.
A month later, a Catholic spotted him at an airport in Wenzhou but police minders took him away to an unknown location. As an 'Underground' Catholic Bishop, the prelate heads a community not recognised by the state.
Catholics in Wenzhou, which is in China's south-eastern Zhejiang province, are split on the question of government influence over the Church. On 26th June 2016, Greg Burke, director of the Vatican press office, stated: "The Holy See is following with grave concern the personal situation of Bishop Peter Shao Zhumin of Wenzhou, forcibly removed from his episcopal see some time ago."
---
Eritrea: Imprisoned for their faith
June 2017: Up to 33 Christian women in Eritrea were jailed on an island prison notorious for the torture of inmates. The women, who were jailed at Nakura island prison off the Eritrean coast, were among more than 120 Christians arrested after being accused of taking part in prayer activities involving banned Church groups. The arrests, all carried out within a single month, were part of a government crackdown on so-called dissident activity.
Human rights organisations have frequently claimed there is maltreatment of prisoners at Nakura prison, with reports of inmates being tied up and their Bibles burned in front of them.
Reporting back from a rare fact-finding visit to Eritrea, a source known to Aid to the Church in Need said there are "hundreds of political prisons" in Eritrea, where many Christians are being held. "Prisoners cry out to be dead," said the source, "and go crazy because of the torture they receive. The oppression of the regime against [non-registered] Christians is merciless."
---
Pakistan: Dying sanitation worker 'refused' hospital treatment
JUNE 2017: Doctors at a hospital in Pakistan were accused of refusing to treat a dying Christian man who was injured while trying to unblock an underground sewer. Irfan Masih, who was in his early 30s, was rushed to Umerkot Civil Hospital, Sindh province, where three medics reportedly ignored pleas to help him. His mother, Irshad Masih, said: "The doctors refused to treat him because they were fasting and said my son was 'napaak [unclean]'." Pervez Masish, a close relative of Irfan Masih (possibly a brother), went quickly to Irfan's side at the hospital.
Describing what happened next, he said: "I pleaded with [the doctor] that Irfan was seriously ill and [that] he must examine him right away. But he said he was fasting [for Ramadan]."
Other medics – including the hospital's chief doctor – reportedly refused to touch him because he was covered in "filth" from the sewer. Reports from Pakistan state that "chuhra" is a derogatory word literally meaning 'filthy' and, depending on social context, can apply to sanitary workers or Christians.
Irfan Masih's father lodged a complaint against the hospital and Umerkot sanitation department. Dr Jam Kumbhar denied the allegations of negligence, saying Irfan Masih was already dead on arrival at the hospital. But local journalist Nahid Hussain Khata said: "If they thought he was dead, why did they put a cannula into his arm or give him oxygen?" Mr Khata also accused the hospital of gross exaggeration amid claims that Christians reacted to Mr Masih's death by causing major damage to hospital property.
Up to 90 percent of people who work on Umerkot's sewage lines are Christians, a disproportionately high figure, given that Christians are barely three percent of the population in Pakistan. Since 1988, 70 such workers, all on a daily wage, have died of causes relating to sewage labour.
---
China: Church leader jailed following 'trumped-up charges'
July 2017: There are fresh reports about Chinese prison authorities using offically santioned torture methods – including starvation and sleep deprivation – against imprisoned Christian leader Zhang Shaojie, 52, in Henen province, central China. On 7th July 2007, his sister, Zhang Cuijuan saw him and described him as "barely alive… [that he is]like a bag of bones" as a result of the prison's "strict supervision".
She said: "It's painful to see such a good person being persecuted. I don't know how long he can persist." She added: "He was in a terrible mental state… He said that he is forbidden to sleep during 'strict supervision'. He was depressed, and I had no way to help him." He was convicted in July 2014 by a court in Henan province for fraud and "gathering crowds to disturb public order".
The USCIRF 2015 report states that he "was convicted on trumped-up charges and sentenced to 12 years in prison". China Aid said the authorities are trying "to cover up religious persecution with fabricated criminal charges against an innocent church leader".